This short circular walk at Woodlesford Lock is a family favourite, with the excitement of canal boats, Locks, ducks and some fantastic sculptures.
Distance: The Woodlesford Lock walk is just under 2 miles (3k). Can do shorter, just stick to one side of the canal and wander as far as you feel!
Accessibility: Fine for most buggies. One side of the canal is a tarmac road, the other side is a clear footpath but can be muddy. Also have to navigate over the locks- I managed it 30 weeks pregnant, so shouldn't be a problem!
Parking: Parking at Woodlesford Lock is limited, please be considerate of local residents. If you are able and fancy extending your walk, you might consider parking at Skelton Lake services (3 hours free parking), or parking at Water Haigh Woodland Park's carpark at the end of Fleet Lane (across the bridge over the canal, past Lemonroyd Marina). 
Facilities: Picnic areas. No cafe but catering van parks up at weekends. No toilets. Woodlesford has a few pubs and cafes. Food, drink and toilets available at Skelton Lake services.
Route: Super-easy! From the car park and lock (pictured top-left below), follow the road (don't worry, no traffic) to the next lock along- cross the canal here and come back the other side! Download a great child-friendly map that includes 5 things to do on this walk from the Canal & River Trust here.
Vlog of our Autumn Woodlesford Lock walk: https://youtu.be/7YNwajueLMk
Our visit to Woodlesford Lock
Jess was in good spirits as we started walking as dozens of ducks came running towards us in hope of food! She often visits here with her nursery so took great pleasure in telling me where we should be headed 🙂
The start of the walk is so pretty- besides the ducks we liked looking at all the different canal boats and there's a lovely picnic area for those sunny days. When you first enter the gate, look out on the left to see the deer sculpture in the orchard.
Further along, you'll arrive at a little gated reserve on your left, with a variety of wooden sculptures including the Gruffalo, Shrek, Donkey and Olaf.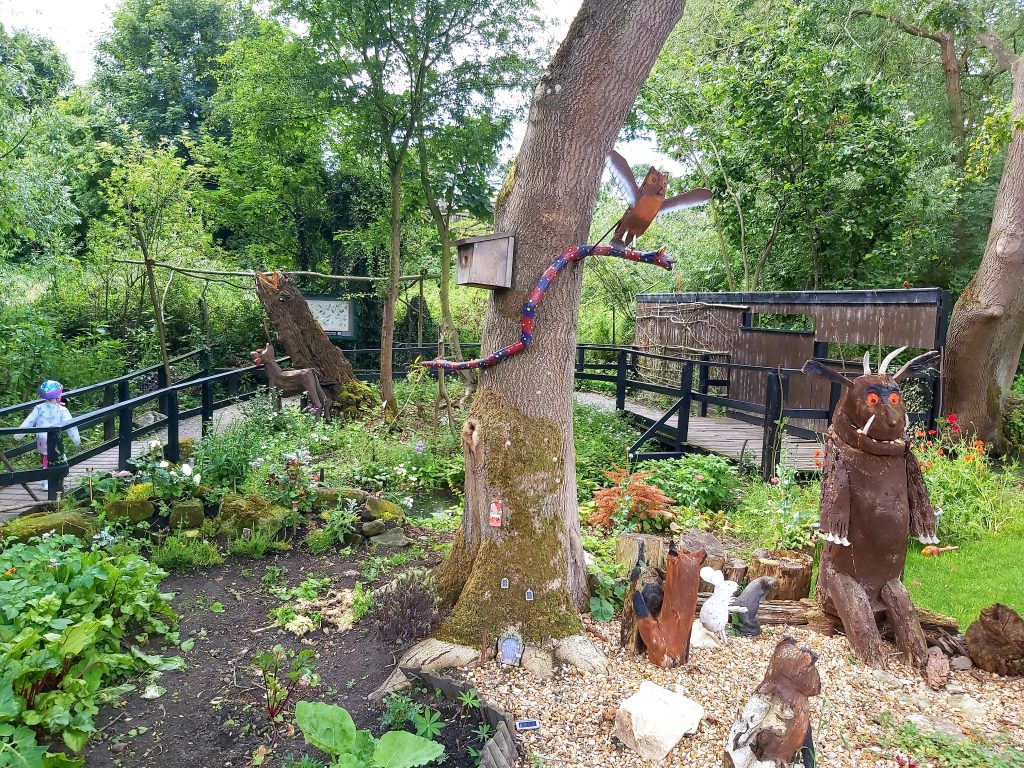 The rest of the walk up this side can be spent spotting birds (you might be lucky enough to see the nesting swans) and jumping in puddles.
Jess was delighted when two canal boats passed us- and everyone on them waved at us!!
When you reach the far lock you might be lucky and get to see it in action, but even if not it's a good chance to explain how it works 🙂 You can also see a wind turbine in the distance- Jess was massively confused by what this was, perhaps this would have been something more interesting to have used on her sheet!!
At this point you need to turn back; either cross the lock bridge to the other side, or come back on the road you cam in on. For a longer walk, you could also follow the road up to Rothwell Country Park.
On the other side the path can get quite muddy, but sits between the canal and river, so is gorgeous to walk along! Not so gorgeous, but interesting for Jess, was the sight of diggers in the distance moving rubbish onto the waste disposal site.
We followed this back to the start at Woodlesford Lock to catch up with the boats who waved at us once again 🙂
The Woodlesford Lock walk is a great one if you have an hour or two to kill, and there's loads of scope to extend it if you want. Let me know if you try it and like it!
Other walks nearby:
Rachel xxxx