Wolds Way Lavender is SUCH a great day out for young children, with loads to explore, play areas galore, a miniature railway and so much more!
I'm not sure what we were expecting on our first trip to Wolds Way Lavender, but it surpassed anything I thought! We arrived thinking it would be a relatively short visit, but we spent aaaaaages there, and still didn't get around everything! Here were our favourite parts;
The Wooden Trail
The play area is great! Lots of climbing and there's even a toddler version to help build confidence before the real thing. There's also a wooden train in the middle complete with a working BELL. I mean which kids don't go mad for that?!?
The Sand Pit and Sand Kitchen
This is located right next to the wooden trail, so you could set up in this area with a picnic, as a few families had on the picnic benches dotted about. The kitchen is a lovely area, with lots of cupboards to bang about in. You might want to take a bucket and spade to use whilst you're there.
The Miniature Railway
On our visit, we needed to book a time slot on our arrival for the train, which seemed to work well although I'm not sure how it would work on busy days. It was £2 a person for everyone who paid in. It was a lovely short little turn, through some beautiful wildflowers where you could easily spot some butterflies!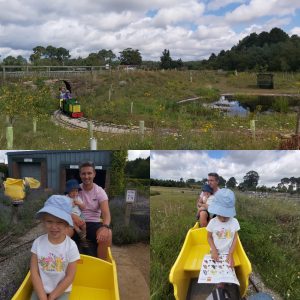 Football Golf
At 4, this type of activity was just perfect for Jess! 9 holes through the lavender, with the last giving a little challenge going over a couple of rows. It was something she hadn't done before, but was easy for her to pick up.
Exploring Nature
A huge highlight was learning about nature, with a bird hide, a woodland walk, bug hotel to help build and butterfly counting to complete. Follow the footsteps to walk around Woldie Willow's Way and look out for all the discoveries! And remember to visit the Giant Beehive!
The Games Maze
As the name suggests, the willow maze is home to a number of giant games! Unfortunately, on our post-Covid visit, it wasn't possible to play everything, but alternative rhymes, activities and quizzes were offered where games weren't possible so there was still lots of fun to be enjoyed!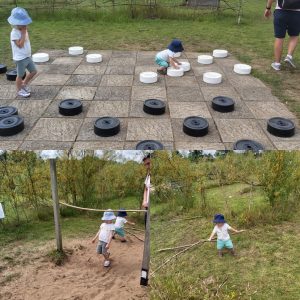 Some good to knows are;
Paths are largely buggy friendly, although we let our son just toddle about without any trouble.
Although there's lots to do, it's over quite a small area, so you could leave your picnic in the car and pop out to grab it when you need it.
The cafe is currently takeaway only, selling drinks, snacks and ice cream.
Lots of picnic benches are dotted about.
If you want to visit, you'll need to pre-book tickets from the

website

, where you can also find more information
It really was such a great day and I'm sure we'll be returning soon!