I can not recommend this fantastic little walk enough. It certainly helps trying it on a sunny day, with the fields glistening with yellow crop and the reservoir water sparkling in the sunshine. What. A. Treat.
Accessibility: Mostly flat with wide decent paths, but a few steeper areas and tight gateways would make it difficult for buggies.
Parking: Pay and display at Anglers Country Park
Facilities: The Waterton visitor's center has a cafe, toilets and decent play area.
Route: An outline of the route is here. I'd recommend using a map if you dont know the area, although the route is pretty easy.
The Walk around Haw Park Wood
Come out of the car park and turn right, following the road towards the signposted Haw Park Wood. The road meets a gate and turns into more of a track, but don't worry, the route is perfectly pleasant! Keep following the track straight ahead until it enters the wood.
Once through the gate, you'll soon see an information board and a path junction. Turn right (Onto the Transpennine Trail) and keep on following this path. A wall will appear on your right, and keep this next to you as you carry on. The path leaves the woodland (still next to the wall) until eventually it meets the river path. I say river, it's basically a ditch. The field before you meet this track is beautiful.
Turn left at the junction, and follow the track along the side of the river ditch. The path will turn away from the river and back towards the wood.
Where the track returns to the woodland (pictured below), dont go inside, and instead take the path on your right, along the side of a field. This path leads you over a bridge to the other side of the river you were previously following.
Once over the bridge, turn left and follow a truly lovely tree lined path, keeping the river ditch to your left. When you eventually reach a stone bridge, dont cross it and instead go straight ahead.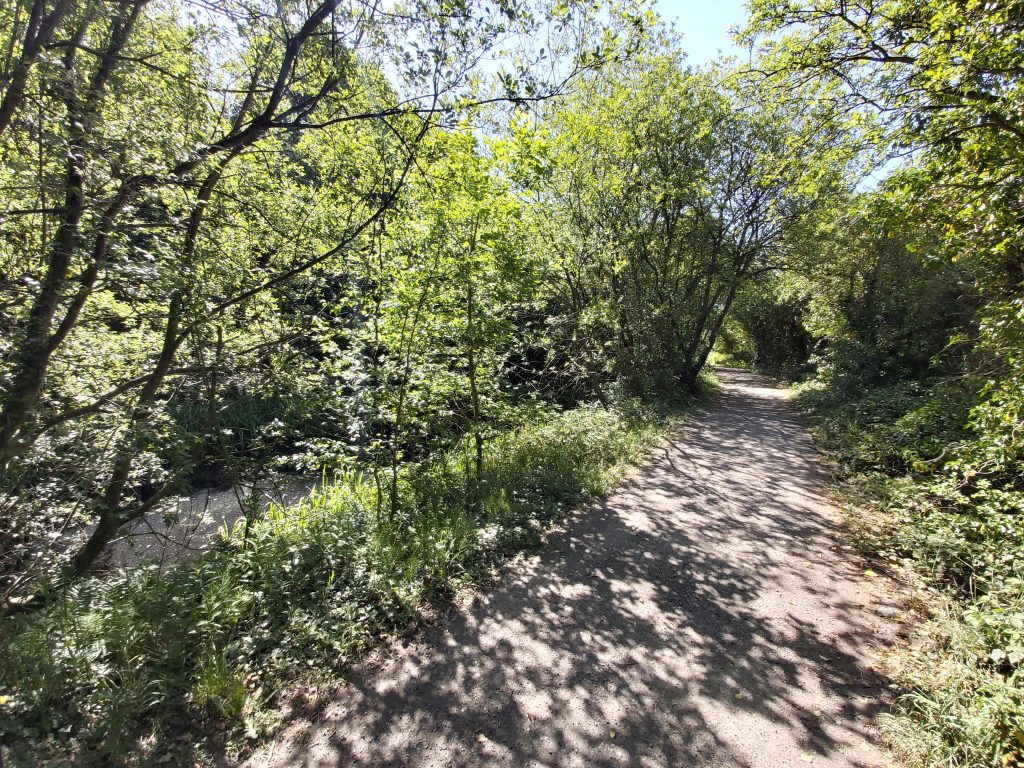 Before long you should see the reservoir behind the trees. If you want to enjoy it as we did, simply cross the bridge on your right and take a moment to appreciate those fantastic views. If you've got a picnic, you might want to wait until here to enjoy it!
When you're ready to head back, turn back on the bridge and cross the river ditch to enter the woodland (pictured below). Turn right, and follow this track all the way to the entrance of the woodland where you started.
If you want to extend this walk, you might want to explore Haw Park Wood a little more, or if you have small children, they might enjoy the Room on the Broom trail.